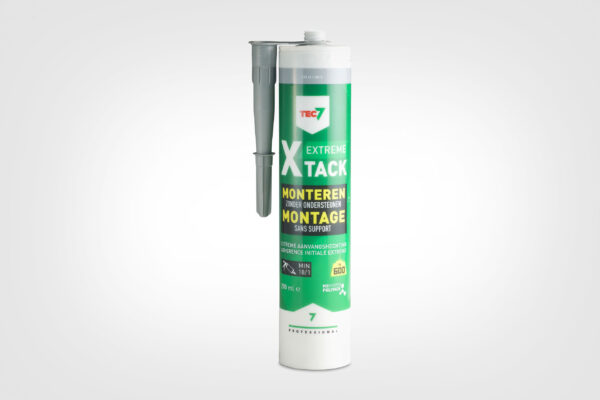 X-tack montagelijm
SKU: Kit X-Tac

Deze x-tack montagelijm is uitermate geschikt voor het verlijmen van bijv. de onderprofiel van uw glazen wand. Zo voorkomt u het risico dat u uw tegels kapot zult boren.
Draagkracht is 25 kg per vierkante cm lijm. Uitermate sterk dus!
Read more
€19.95
Please choose the quantity of items you wish to add to your cart…
Eigenschappen
Al supersterk vóór uitharding: 600kg/m²
Stabiel bij lijmdikte tot 40mm.
Blijvend elastisch.
Vrij van ftalaten, solventen en isocyanaten.
Bijna reukloos.
Ook op vochtige, gladde ondergrond.
Schimmel- en bacteriebestendig.
Water- en luchtdicht
Te gebruiken op de meeste bouwmaterialen.
Over het product
huidvorming na: ca. 3-5 minuten
Doorharding:

24 uur: 2.7 mm
48 uur: 4 mm

Shore hardheid (DIN 53505) na 3 weken bij 23°C/50% relatieve vochtigheid: +/- 54 Shore A
Rek bij breuk: > 500%.
Chemische bestendigheid:

goed: water, zout water, alifatische oplosmiddelen, oliën, vetten, verdunde organische zuren en logen
matig: esters, ketonen en aromaten
slecht: geconcentreerde zuren en gechloreerde solventen